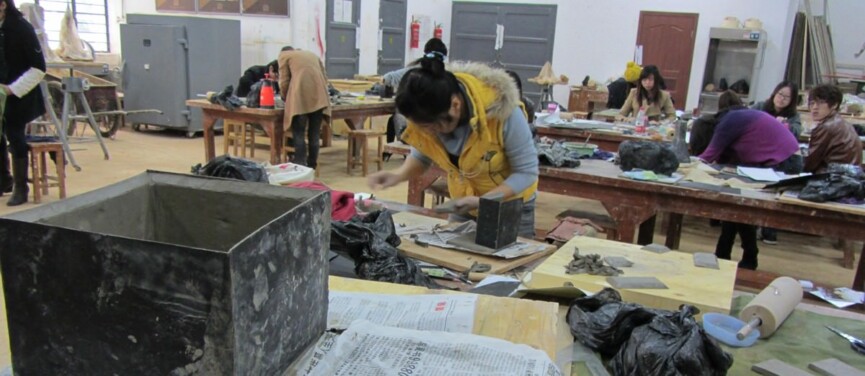 I find joy in sharing the techniques and experiences I have with eager learners. I share what I know and then work hard at leaving the door open for personal interpretation.
An example would be the tar paper (roofing felt) technique I have developed for working with slabs. The tar paper helps support the slabs so forms can be built that otherwise would be hard to build. It lends itself to boxes and large sculptural forms. In a workshop I demonstrate the technique then work with the participants to create a slab form of their choosing.
Besides showing slides of my work with its influences and development, I like to show slides of my trips to major international ceramic centers such as Faenza, Italy and Jingdezhen, China.
I also enjoy critiques, both one on one and group, as a way to make a personal contact and to allow for further exploration.
Slide Lecture Themes
New Models in Ceramics: Using 3D scanning and Printing
Retrospective of Work
Grand Tour: European Ceramics
Italian Ceramics: Majolica
Chinese Ceramics: Porcelain
International residencies
USA Ceramics Today
Workshop Themes
Building a Better Box: Using Tar Paper Technique
Give and Take: Using Slip Techniques on Surface
Building Surface: Decals, China Paints and Lusters
Wall pieces; Using the Tar Paper Technique
Also: Experience in various handbuilding techniques, mold making and slip casting
 In Process Workshop Photos